Posts may contain affiliate links, for details visit Site Disclosure.
Like this post? Make sure you Share it or Pin-it!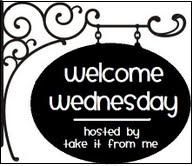 Today is going to be another laid back kind of day around here!
I'm thinking about doing some baking, right now the kids are playing dress up, and later we will probably work on summer studies and read books.
However, I will be around and will be participating in a Wednesday Blog Hop.
If you want to join up as well, just click on the box above!
I hope you are having an awesome Wednesday!
FFM